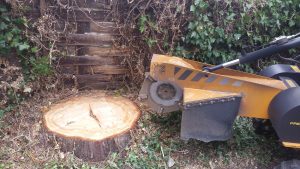 Grinding out tree stumps with our narrow tree stump grinder (fits through small gates) in Essex, Suffolk, Cambridgeshire, Hertfordshireand surrounding areas. Will travel no distance to far. Free stump removal quote. Call Roy day or night or request a free quote
Essex Tree Stump Grinding has been grinding out tree stumps since 2004. Specialising in the removal of tree stumps and tree roots. We will remove any size tree stump, however large or small. Based in North West Essex, we cover four counties and the surrounding areas, including Essex, Suffolk, Cambridgeshire and Hertfordshire. Traveling as far as Norfolk!

Please call Roy for a free instant quote

Please call Roy on (07971) 648879 for an instant quote.
We offer very competitive quotes with no hidden extras, please call Roy on 07971 648879 for more details.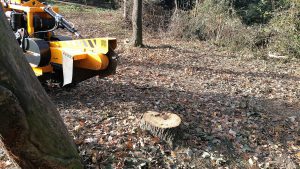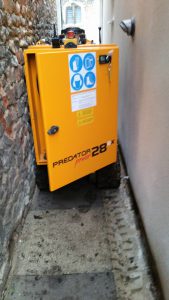 I use a Predator radio remote tracked stump grinder which will fit through most garden gates. The machine narrows down to a minimum of 26 inches (66 cm) which enables it to get into most gardens. However, if your gate is particularly small and sometimes remove the fence panel or coming through a neighbours garden.
The predator tracked stump grinder has a very low ground pressure and will cause minimal damage to your lawn, I take extreme care when I am working on other people's property. You can watch the video below to see the process of grinding out a tree stump. The tree stump is ground down well below ground level and in most cases, the whole tree stump is removed, which leaves you with some fine chip which can then be composted and used at a later date.
I work in gardens, building sites, golf courses and for local authorities etc, in fact wherever the offending tree stump maybe. I am fully insured and have comprehensive public liability insurance with the NFU.
If you have any questions or require quote or any information, please do not hesitate to contact me on (07971) 648879