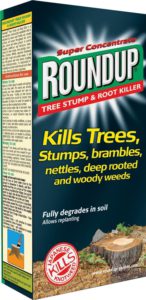 On the rare occasions when a tree stump cannot be removed due to access or awkwardness of the tree stump, a tree stump killer can be used.
Here are a few links to purchase tree stump killer.
If you need any advice please feel free to call me on (07971) 648879 or you can find out more information here.
Doff New Tree Stump Tough Weedkiller – 2 Sachets
Roundup Tree Stump And Root Killer